"QUOTE ... UNQUOTE"
JUST SO YOU KNOW WHO YOU'RE DEALING WITH ...
---
---
NIGEL REES is a broadcaster and writer, probably best-known as deviser and presenter of BBC Radio 4's long-running Quote ... Unquote programme.
Born near Liverpool on 5 June 1944, Nigel went to the Merchant Taylors' School, Crosby, and then took a degree in English at Oxford.  He went straight into television with Granada in Manchester and made his first TV appearances on local programmes in 1967 before moving to London as a freelance.  He reported for ITN's News at Ten and then became involved in a wide range of programmes for BBC Radio – news, current affairs, arts and entertainment – including two years as co-presenter of the breakfast-time Today programme on Radio 4 (1976-78).

Unusually, he has combined his broadcast presentation work with appearances in comedy shows, notably BBC Radio's Week Ending (with David Jason and Bill Wallis), The Betty Witherspoon Show (with Ted Ray, Kenneth Williams and Miriam Margolyes) and The Burkiss Way (with Chris Emmett and Fred Harris), and in Harry Enfield and Chums on BBC TV.
<![if !vml]>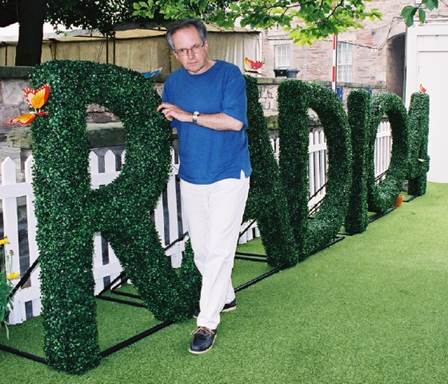 <![endif]>
Nigel Rees in the BBC Radio 4 garden at The Pleasance during the 2003 Edinburgh Festival

Among other radio shows he has presented are: Twenty-Four Hours (BBC World Service 1972-9), Kaleidoscope (BBC Radio 4, 1973-5), Where Were You in '62? (BBC Radio 2, 1983-4, also devised it) and Stop Press (BBC Radio 4, 1984-6). 
He is the author of more than fifty books.  Titles include Brewer's Famous Quotations and A Word In Your Shell-Like: 6,000 Curious & Everyday Phrases Explained.  Twenty titles are available as e-books from the Kindle Store at Amazon, including an autobiography my radio times.

Nigel has been the President of the Johnson Society of Lichfield (2006/7) and is a patron of the P.G. Wodehouse Society (UK).  He lives with his wife, Sue Bates, in London and Oxfordshire.
'Nigel Rees is Britain's most popular lexicographer – the lineal successor to Eric Partridge and, like him, he makes etymology fun' – The Spectator
'The books of Nigel Rees have been an important source of information for this work, in particular Cassell Companion to Quotations, Cassell's Humorous Quotations, Cassell's Movie Quotations, and Brewer's Quotations.  Rees has been a pioneering quotation scholar who was one of the first to make it clear that the material in the standard reference works for many of the best-known and most interesting quotations can be improved upon' – Fred R. Shapiro, introduction to the Yale Book of Quotations (2006).