"QUOTE ... UNQUOTE"
NEW BOOKS AND E-BOOKS
---
---
To view a complete list of my e-books in a Kindle Store, press CTRL and click either amazon.com or amazon.co.uk or go to your nearest amazon outlet.
My autobiography is now available as a paperback book and as an e-book.  Either version can most easily be found on Amazon:
<![if !vml]>
<![endif]>
I became 'broadcasting-struck' at a very early age but, although I maintained my ambition to go into radio or television when I grew up, through school in Liverpool and at university in Oxford, I had no very clear idea of what I wanted to do if and when I got there.  It was when I landed my first job with Granada TV in Manchester that I realised I wanted to be a writer and performer of some description.  After a short and undistinguished stint as a hard news reporter with ITN, I gradually established myself as a freelance contributor to a wide range of BBC radio outlets.  In time, I became a presenter of news and current affairs programmes (Today on Radio 4, Twenty-Four Hours on World Service) as well as in arts and entertainment.  As I relate in my radio times, I somewhat unusually combined all my presentation work with acting in a radio comedy classic (The Burkiss Way to Dynamic Living) and a radio comedy disaster (The Betty Witherspoon Show).
This last show did mean, however, that I got to work with Kenneth Williams.  my radio times contains a notable portrait of that extraordinary character – along with reminiscences of some of the many other people whom I encountered along the way, from film stars to politicians, from leading figures in the arts to the occasional arch-villain.
Eventually, it was my mix of skills and enthusiasms that gave rise to Quote ... Unquote, the radio show I have devised and introduced for over 35 years.  I relate how it came about, my experiences with an astonishing variety of guests and how the brand established me as something of an authority on aspects of popular language, the chief subject of my many, many books.
Alongside my narrative in this 'radio autobiography' is a vivid account of the personal life that underpins the professional.
Illustrated with pictures from my collection.
_____________________________________________
The latest addition to my BEST GUIDE TO … series of popular language reference e-books is:
<![if !vml]>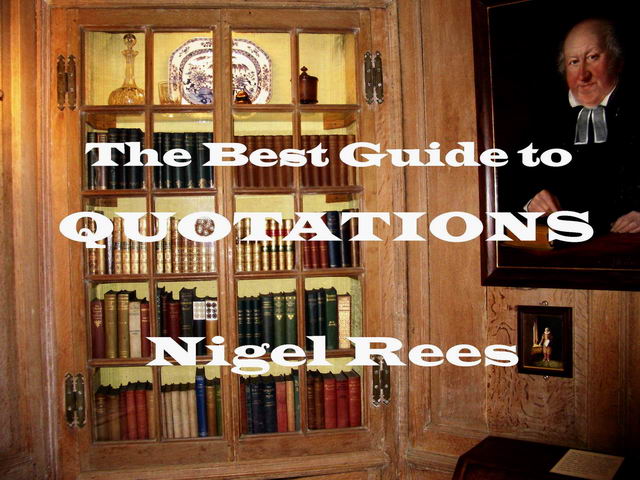 <![endif]>
The BEST GUIDE TO QUOTATIONS is not a dictionary of quotations in the usual sense.  It is an annotated guide to those quotations often misquoted or misattributed or for which finding a source has proved in some way problematical. 
This e-book is the result of nearly forty years spent on the quotations watch and brings together material from my earlier quotations 'companions', now updated through twenty years of discoveries from the Quote … Unquote Newsletter.  So here is the cream of quotations scholarship – aided by a band of worldwide quote detectives.
So, what did Neil Armstrong actually say when he stepped on to the moon?
Did John Masefield write 'I must GO down' or 'I must DOWN to the seas again'?
Where did the expression 'My work here is done' originate?
Did Napoleon ever really say 'Not tonight, Josephine'?
Who wrote the graffito 'Far away is close at hand in images of elsewhere'?
Is there any evidence that Lord Chesterfield ever said of sex that 'the pleasure is momentary, the position ridiculous and the expense damnable'?
These and scores of other notable sayings are here put under the quotations microscope.
Go to the Kindle store at amazon.com, amazon.co.uk or your local amazon for more details.  A small note: you don't actually have to have a Kindle to read Kindle e-books. You can download (for free) a 'Kindle for PC' program that lets you view the books on your PC screen and on other devices.
___________________________________________
My most recent hardback book is published by Batsford, is entitled Don't You Know There's a War On! and sub-titled Words and Phrases from the World Wars.
<![if !vml]>
<![endif]>
• From 'Your country needs you' to Churchill's 'Blood, toil, tears and sweat', this fascinating book is a wide-ranging exploration of words and phrases from the two world wars.
• Covers phrases from both home and abroad, including military terms ('dreadnought'), political slogans ('a bayonet is a weapon with a worker at each end'), slang used by soldiers abroad ('basket case') and comic radio-show catchphrases ('this is Funf speaking').
• Packed with information on the provenance and development of these intriguing, quirky and sometimes crude phrases that were born out of times of conflict and have become part of our language.
____________________________________________
I have recently been producing Kindle e-editions of a number of books on my backlist.  Apart from keeping the books available, this process enables me to update them, correct them and generally refresh them. 
First out was a Kindle version of my five collections of humorous and pointed graffiti which, it is not an exaggeration to say, were a publishing phenomenon of the early 1980s and sold millions of copies.  I have long wanted to produce a 'complete graffiti' book and now I have done so.  Called The Golden Age of Graffiti, the e-book brings together the text of the five collections, more or less exactly as originally published.  In addition there are photos from my archive of some of the major graffiti, background notes on the most famous ones, as well as thoughts on what has happened to the type of graffiti jokes and stuff that was so current back then but which has now all but disappeared under the spray-painted rubbish that bedaubs so many of our cities today.   This e-book is available from the Kindle store at amazon.com, amazon.co.uk or the nearest amazon outlet to you.
<![if !vml]>
<![endif]>
_____________________________________________
Also available now are e-books by me, with the generic title The Best Guide to –––––
<![if !vml]>
<![endif]>
This is the biggest, best and funniest collection of humorous quotations you will find, embracing as it does over 5,000 comic utterances of all types: aphorisms and epigrams, retorts and putdowns, quips and one-liners, sayings and proverbs, together with examples of unintentional humour such as gaffes and malapropisms.
The quotations are drawn from a world-class cast of wits and humorists: comedians, novelists, playwrights, journalists, politicians, actors, songwriters and many others.  Oscar Wilde, Mark Twain, Noël Coward and Woody Allen are, of course, well represented but hundreds of other exponents of the bon mot are included here, even if they have brightened the world with only one or two of their sayings.
Nigel Rees draws on over 35 years experience of sourcing quotations through his BBC Radio show Quote ... Unquote.  This is not just another collection of funny sayings, it is the ultimate authority on who actually said what and is a major attempt to pin down the quotations that readers really want to know about.  Using the search button you can find what you are looking for in The BEST GUIDE to HUMOROUS QUOTATIONS whether it be through a word or phrase or under one of the 1,200 thematic headings.
_____________________________________________
And then:
<![if !vml]>
<![endif]>
From a database of some 10,000 quotes, I have selected a comprehensive and entertaining collection from all areas of cinema.  Great and memorable lines from the movies are coupled with quotable comments by and about film-makers and film-goers.  This specially revised e-book also celebrates the language of the movies – the catchphrases and titles, the slogans and clichés.  Above all The Best Guide to Movie Quotes hears from the professionals – the actors, directors, producers, writers and critics – and tells us what they love, loathe and lament about the business, the pictures, the players – and about each other.
_____________________________________________