"QUOTE ... UNQUOTE"
AUDIO DOWNLOAD
---
---
I am sometimes asked whether audio downloads or podcasts of the radio show are available. The answer is no – this is not in my hands.
The whole run of 450+ editions of the radio show has been digitalized and individual ones may be available, in special circumstances, on request.
However, the good news is that a two-hour compilation album of Quote ... Unquote's 'greatest hits' may now be available as a download. Go Googling for it in the usual places.
This download is based on the double audio cassette described here (which may still be available from Amazon and other dealers):
<![if !vml]>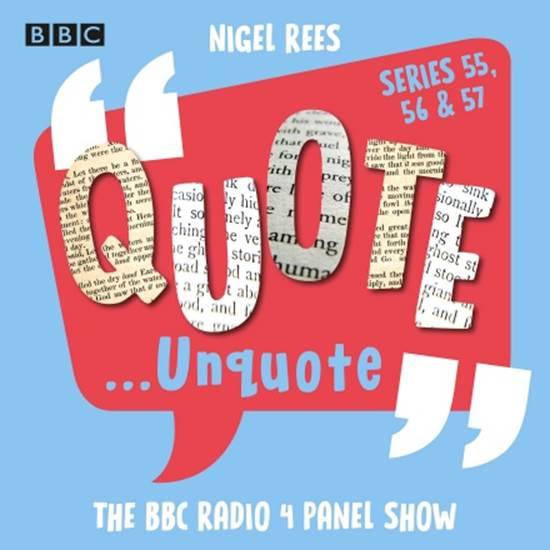 <![endif]>
To mark the programme's 25th anniversary in 2001, the BBC Radio Collection re-launched the "Quote...Unquote" audio cassette, first published in 1998. The cover/sleeve is shown above. The two-hour double cassette contains highlights from the show, selected and introduced by Nigel Rees.
Readers: RONALD FLETCHER, PATRICIA HUGHES, WILLIAM FRANKLYN.
Panellists: KINGSLEY AMIS; ERIC ANDERSON; DAVID ATTENBOROUGH; PAUL BAILEY; JOAN BAKEWELL; ALAN BENNETT; ALAN BRIEN; JIM BROADBENT; JONATHAN CECIL; DENISE COFFEY; ISABEL COLEGATE; PETER COOK; JUDI DENCH; JOHN DRUMMOND; WILLIAM FRANKLYN; PATRICK GARLAND; CELIA HADDON; RUSSELL HARTY; DENIS HEALEY; ROY HUDD; GLENDA JACKSON; SAEED JAFFREY; RICHARD INGRAMS; PETER JONES; LUDOVIC KENNEDY; ROBERT LACEY; NAOMI LEWIS; HUMPHREY LYTTELTON; IAN MCKELLEN; ARTHUR MARSHALL; CHRISTOPHER MATTHEW; FRANCIS MATTHEWS; GEORGE MELLY; SPIKE MILLIGAN; JULIAN MITCHELL; JOHN MORTIMER; MALCOLM MUGGERIDGE; DENIS NORDEN; JOHN OAKSEY; GEMMA O'CONNOR; ALAN PLATER; FREDERIC RAPHAEL; TIM RICE; JANET SUZMAN; JEAN TRUMPINGTON; PETER USTINOV; WYNFORD VAUGHAN-THOMAS; HUW WHELDON; KENNETH WILLIAMS; TERRY WOGAN; PETER WOOD.
Producers: JOHN LLOYD; GEOFFREY PERKINS; ALAN NIXON; JOANIE BLAIKIE; HARRY THOMPSON; LISSA EVANS; ARMANDO IANNUCCI; JON NAISMITH; KATHY SMITH; CHRIS NEILL.
Audio cassette produced for the BBC Radio Collection by: CHRIS NEILL.
NIGEL REES WRITES ON THE SLEEVE:
'When people ask me how it is that "QUOTE ... UNQUOTE" has survived so long, I usually suggest two reasons. Firstly, because not having a regular panel, it has been able to range far and wide for participants - from ALAN BENNETT to ARTHUR MARSHALL, from PETER USTINOV to KENNETH WILLIAMS.
'Secondly, because we have interpreted the word "quotation" very broadly indeed. We don't just examine and play about with the "big" quotations from the Bible, Shakespeare and Kipling, we also delve into the informal sayings of everyday life.
'But there is a third reason - and that is the most important of all. Right from the first programme in 1976, listeners to "QUOTE ... UNQUOTE" have contributed their own favourite quotations, turning it into something rather more than a quiz - a national treasury of quote and anecdote, a "quiz-anthology" indeed.
'Listening to over 125 hours of programme material to make this selection has been great fun for me. I hope you will find these "quotes" from the "quotings" every bit as enjoyable.'
---