"QUOTE ... UNQUOTE"
AUDIO DOWNLOAD
---
---
Now that the radio show has come to an end, there are plans to make available some past editions.
A start is being made with this:
<![if !vml]>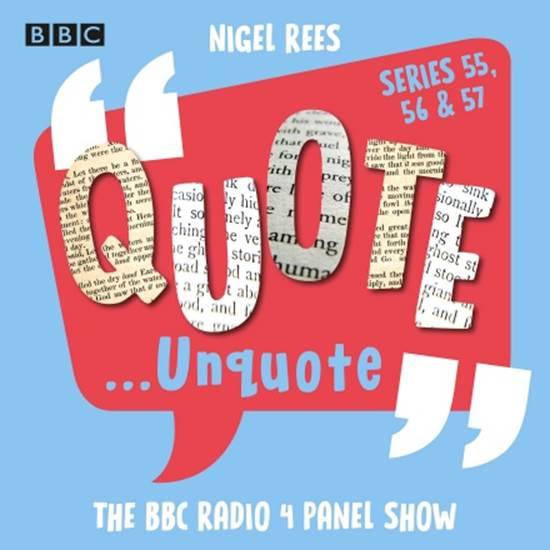 <![endif]>
Quote…Unquote
<![if !supportLists]>· <![endif]>Series 55, 56, 57 of the classic comedy panel show are being made available by BBC Digital Audio/Penguin Random House. You will also find this collection in Audible.
RELEASED 17/02/2022
The last ever episodes of the acclaimed quotations quiz, devised and introduced by Nigel Rees - including the historic 500th show

Ever since 1976, Quote... Unquote chairman Nigel Rees has quizzed a host of well-known personalities on the origins of popular sayings, both familiar and obscure, and encouraged them to contribute their own quotes, anecdotes and catchphrases. But - to paraphrase Chaucer - all good things must come to an end, and with Series 57, the long-running panel game takes its final bow.

Among the household names gracing the stage in these final eighteen episodes are comedians Ken Cheng, Shazia Mirza and Sophie Duker, actors Steve Pemberton and Paterson Joseph, authors Juno Dawson, Luke Jennings and Victoria Hislop, lyricist Tim Rice, presenters Konnie Huq and Dame Esther Rantzen and journalist Jonathan Freedland (aka thriller writer Sam Bourne).

Their quota of quotations to identify ranges from memorable lines from the worlds of literature, film and music, to comic catchphrases, famous last words and evergreen epitaphs. There's also an opportunity for the panellists to share the brilliant bon mots they wish they'd said, and dispense their favourite family sayings and the nuggets of wisdom that they've picked up over the years.

So join Nigel and guests for a feast of aphorisms, epigrams, wisecracks and witty rejoinders, and prepare to be inspired, amazed and thoroughly entertained.


Production credits
Devised and introduced by Nigel Rees
Quotes read by Sally Grace, Charlotte Green and Alison Skilbeck
Produced by Simon Nicholls, Victoria Lloyd and Ella Watts
Production Coordinators: Candace Wilson and Gwyn Davies
Theme tune: 'Duddly Dell', written and performed by Dudley Moore
Sound design: Hedley Knights
A BBC Studios Production

© 2022 BBC Studios Distribution Ltd
(P) 2022 BBC Studios Distribution Ltd
_______________________________________________________________________
The whole run of 500+ editions of the radio show has been digitalized and individual ones may be available, in special circumstances, on request.
Previously, a two-hour compilation album of Quote ... Unquote's 'greatest hits' was published, initially on audio-cassette, in 1998 and re-launched in 2001. It is now available from Audible.
This download is based on the double audio-cassette described here:
<![if !vml]>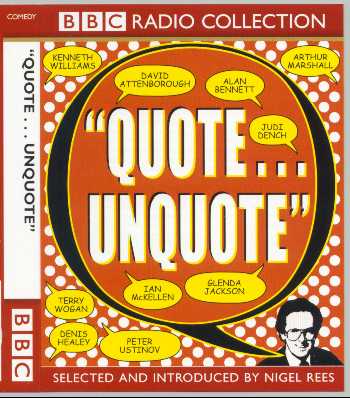 <![endif]>
To mark the programme's 25th anniversary in 2001, the BBC Radio Collection re-launched the "Quote...Unquote" audio cassette, first published in 1998. The cover/sleeve is shown above. The two-hour double cassette contains highlights from the show, selected and introduced by Nigel Rees.
Readers: RONALD FLETCHER, PATRICIA HUGHES, WILLIAM FRANKLYN.
Panellists: KINGSLEY AMIS; ERIC ANDERSON; DAVID ATTENBOROUGH; PAUL BAILEY; JOAN BAKEWELL; ALAN BENNETT; ALAN BRIEN; JIM BROADBENT; JONATHAN CECIL; DENISE COFFEY; ISABEL COLEGATE; PETER COOK; JUDI DENCH; JOHN DRUMMOND; WILLIAM FRANKLYN; PATRICK GARLAND; CELIA HADDON; RUSSELL HARTY; DENIS HEALEY; ROY HUDD; GLENDA JACKSON; SAEED JAFFREY; RICHARD INGRAMS; PETER JONES; LUDOVIC KENNEDY; ROBERT LACEY; NAOMI LEWIS; HUMPHREY LYTTELTON; IAN MCKELLEN; ARTHUR MARSHALL; CHRISTOPHER MATTHEW; FRANCIS MATTHEWS; GEORGE MELLY; SPIKE MILLIGAN; JULIAN MITCHELL; JOHN MORTIMER; MALCOLM MUGGERIDGE; DENIS NORDEN; JOHN OAKSEY; GEMMA O'CONNOR; ALAN PLATER; FREDERIC RAPHAEL; TIM RICE; JANET SUZMAN; JEAN TRUMPINGTON; PETER USTINOV; WYNFORD VAUGHAN-THOMAS; HUW WHELDON; KENNETH WILLIAMS; TERRY WOGAN; PETER WOOD.
Producers: JOHN LLOYD; GEOFFREY PERKINS; ALAN NIXON; JOANIE BLAIKIE; HARRY THOMPSON; LISSA EVANS; ARMANDO IANNUCCI; JON NAISMITH; KATHY SMITH; CHRIS NEILL.
Audio cassette produced for the BBC Radio Collection by: CHRIS NEILL.
NIGEL REES WRITES ON THE SLEEVE:
'When people ask me how it is that "QUOTE ... UNQUOTE" has survived so long, I usually suggest two reasons. Firstly, because not having a regular panel, it has been able to range far and wide for participants - from ALAN BENNETT to ARTHUR MARSHALL, from PETER USTINOV to KENNETH WILLIAMS.
'Secondly, because we have interpreted the word "quotation" very broadly indeed. We don't just examine and play about with the "big" quotations from the Bible, Shakespeare and Kipling, we also delve into the informal sayings of everyday life.
'But there is a third reason - and that is the most important of all. Right from the first programme in 1976, listeners to "QUOTE ... UNQUOTE" have contributed their own favourite quotations, turning it into something rather more than a quiz - a national treasury of quote and anecdote, a "quiz-anthology" indeed.
'Listening to over 125 hours of programme material to make this selection has been great fun for me. I hope you will find these "quotes" from the "quotings" every bit as enjoyable.'
---