"QUOTE ... UNQUOTE"
NEWSLETTER
---
---
The "Quote ... Unquote" Newsletter is a quarterly digest of information of special interest to speakers, writers and all who may wish to use quotations in their work – but equally it provides a forum for everyone who speaks and writes the English language and is intrigued by the origins and use of words and phrases.
The Newsletter draws on the resources of its publisher and editor, Nigel Rees, who has been involved with this area of language for over forty years.  He has devised and presented BBC Radio's "Quote ... Unquote" programme since 1976 and is the author of some forty associated books dealing with aspects of popular language and especially the humour that derives from it.
First published in January 1992, the Newsletter grew out of an informally-circulated sheet of quotation queries and its basic function remains to assist readers in tracing "lost" quotations. But, every bit as much, it explores the origins and use of popular phraseology – including catchphrases, slogans, colloquialisms, idioms, clichés, nicknames; and, especially, it aims to provide useful quotations, jokes and anecdotes for those who may want them.
The Newsletter has found a wide and enthusiastic readership among speechmakers, speechwriters, advertising agencies, journalists, writers, broadcasters, librarians, public relations specialists, and many other people who simply enjoy learning more about the English language. 
'I wouldn't miss an edition of your Newsletter. It is a wonderful publication.'
Len Deighton, author
'It is great fun!'
the William F. Buckley Jr, editor The National Review
'Nowhere else will you find the unique combination of authoritative scholarship, wit, love of language, and practical, useful information concerning quotations.'
Robert O. Skovgard, publisher of The Executive Speaker in the US
'This Newsletter has become a new Notes & Queries, specializing in the serious study of formulaic language. Anybody interested in the complex but intriguing field of phraseology needs to consult this important publication. It is a major resource for scholars but also for general readers who are eager to learn more about the history, nature, and meaning of quotations and idioms' – Prof. Wolfgang Mieder, Editor of Proverbium.
'I adore the Newsletter and read every single golden word the minute it comes in!' Claire Rayner, advice columnist and novelist
After 17+ years as a printed subscription quarterly, the Newsletter is now a free electronic publication, distributed as an email-attached PDF.  If you would like to receive it, see HOW TO GET IN TOUCH WITH "QUOTE ... UNQUOTE".
The first thirty years of the Newsletter have now been collected together as four e-volumes. For further details, go to the Kindle Store at Amazon:
<![if !vml]>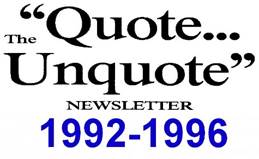 <![endif]>
<![if !vml]>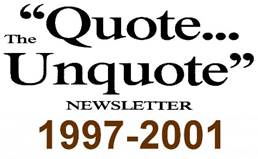 <![endif]>
<![if !vml]>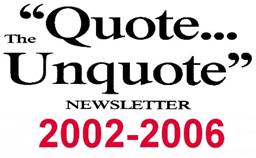 <![endif]>
<![if !vml]>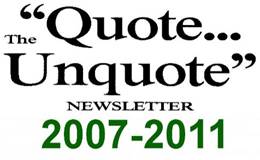 <![endif]>       
<![if !vml]>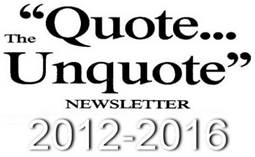 <![endif]> 
<![if !vml]>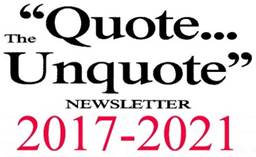 <![endif]>        
---